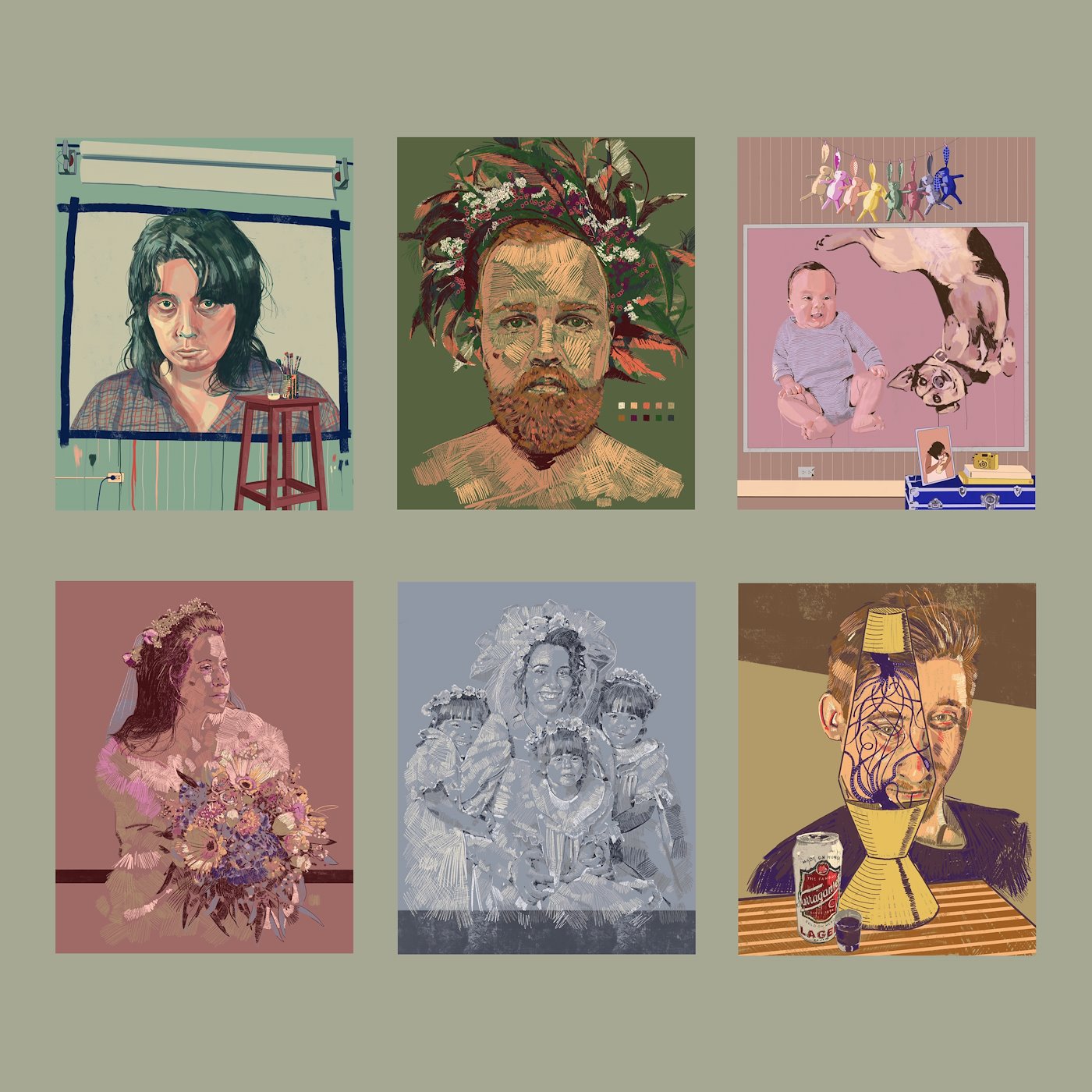 INFORMATION ON CUSTOM DETAILED/GROUP PORTRAITS
Updated December 3, 2019
What I create: One-of-a-kind digital illustration drawings of you or anyone with extra special details (for example: groups of more than three people, other rendered objects or details in addition to the portrait, a full environment in the background, or whatever you can think up!).
What is needed: A few unedited, clear photos of the subject(s). Preferably in natural daylight, try and get some good shots of each face at differing angles. The reference image(s) used for the portrait can be from separate photos, or maybe there are multiple people together in the same photo, or some combination in between. Afterward, think about what colors and/or design elements you would like present in the final product. For example, would you like the color scheme to be monochromatic? Matching the colors in the room the portrait will be displayed? Or maybe just your favorite colors? Do you want the portrait to have stripes in the background? Polka dots? Color swatches? Check out examples of past pieces above and on my Instagram page (@joseph.eggleston.art).
What you receive: Upon completion, you will receive an email containing a high resolution copy of the portrait. There is no additional cost to receive the file in different sizes or image formats. There is also no additional cost to have copies of the portrait with the subjects together and/or each person separated on their own in a matching portrait sets. With your portrait(s), print it on whatever you like (matte photo paper to frame and hang, refrigerator magnets, event invitations, greeting cards, etc.) and as many times as you like. Great for gifts!
Please note: All examples of illustrations on my website and social media platforms are automatically compressed. This means that the portraits will appear of low quality or blurry. I can assure you that what you will receive via email will be high resolution and crisp. If you are at all concerned, I can happily provide you an example via email.
Pricing: Currently all custom portrait illustrations with extra details vary in price. Again, the final product you will receive is a digital file. Please email me (joseph.d.eggleston@gmail.com) to get things started and an estimate for your project!